Learn about the draft Camp Management Standards and contribute your expertise!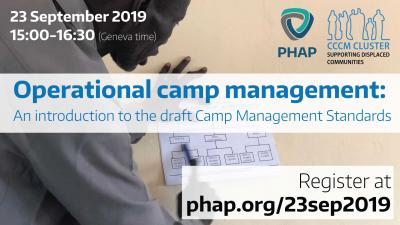 Update: The webinar from the consultation call can be found on the Camp Management Standards page
How would you run a camp for displaced persons? Who would you hire to manage a site following a hurricane? If a conflict suddenly broke out and only your agency had access to a neighbourhood where displaced people were staying, what would you do? What core activities would your team be responsible for? Where would you look for this information? And what standards would guide your interventions?
National authorities have the responsibility to prevent displacement and protect IDPs and other populations affected within their own country. But in crisis situations, they often receive support from the international humanitarian community in the form of lifesaving assistance, including the management of temporary displacement sites.
Survey on the standards: https://diagnostics.phap.org/s3/cm-standards-survey-1?s=phap
About the Camp Management Standards
The CCCM Cluster has embarked upon a consultation process to harmonize benchmarks and set standards that measure the outcome of tasks directly carried out by camp management teams. Agreeing upon standards are expected to help to clarify the role and build understanding of Camp Management; serve as an advocacy tool at the onset of an emergency as well as throughout a response; assist with capacity building; and to guide and harmonize camp management practices and operational delivery standards in the various contexts.
The process began in 2017 to develop these Camp Management Standards (CM Standards). Following a series of on-site consultations with camp managers and affected populations, the CCCM cluster is now partnering with the International Association of Professionals in Humanitarian Assistance and Protection (PHAP) for online consultations for stakeholders globally to provide their input and help refine the standards.